This is my 7th article on things I learnt from my parents. Things, which today, as an adult I realise, is so much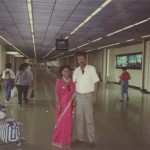 responsible, for me being, what I am.
I had come home with my 10th class elimination test results. Needless to say it was worse than expected. Elimination test results are never good, but mine was worse than I expected. Ma wasn't home and Baba was around. In a way, it was better as ma was more strict when it came to studies, though Baba was not exactly lenient. But then I was like, well at least the scoldings would be a little less.
So there I go to Baba, and show him my results. He just looked up and said, I hope you know what this will mean as far as your boards go. The one thing I learnt as a kid, was to never respond to such questions or it will lead to further mess. So I kinda kept quiet. Knowing his daughter and her extreme ability to avoid all unpleasant conversations, Baba decided to speak on his own, rather than wait for my reactions. But what he said that day, is something I will never ever forget.
He said, "Every thing you do in your life will have consequences. Some good. Some bad. But you have to live with those consequences. For example if you decide to play with fire, you might get burnt. You might not but then there is a strong chance you will get hurt. And when you get burnt you will cry. I as your parent, can apply Burnol on that burn, I can empathise with your pain, but no matter how much I want, I can't take away that pain. That pain will sadly remain yours. The same is with life and many of your decisions. If today, you refuse to study, the consequence of that on your career will solely be yours. I as your parent, can't build your career for you even though I would want to. I can at best give you a good education, so you can have a good career. But how you deal with that education and career will determine your future. So take your choice today. Remember, I will always carry the Burnol, but I can never take away your pain or the scar"
At that moment of course my only goal was to get out of the conversation as fast as I can and was quite happy that it ended with some obscure reference to Burnol and I did not have to explain my poor marks for too long. However, today, many eons later I realise the significance of those words and the value of that simple anecdote.
Play with fire, and you might get burnt. So decide carefully on what you want to play with.
My earlier posts on Parenting http://worldasisee.com/parenting-6-2/