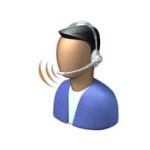 Last night my Airtel phone went dead. I called up the customer care number to complain. Following is an excerpt of the conversation I had with customer Care Executive :
Me: Hi, my number has gone dead. I need to lodge a complaint.
CCE : Can you make calls from your phone?
Me : No. I just mentioned the phone is dead.
CCE : Can you pick up your receiver and see if it has dialtone?
Me: I just told you the phone is dead. Doesn't that mean the phone has no dialtone?
CCE: So have you faced this problem before?
Me: I have the phone for 6 years. Of course it has gone dead before.
CCE: So when was the last time your phone went dead and what did you do?
Me: I think I went to Ekta Kapoor. She is an expert in bringing the dead back to life in her serials and I thought she could bring mine back too. Guess I should have done the same this time, instead of calling you up.
CCE: what?
Me: nothing. Can you just take down the complaint?
The conversation followed a bit longer till they finally took down the complaint. Guess the call centre has got so used to following procedure that it forgot to tell its CCE to use their brains too